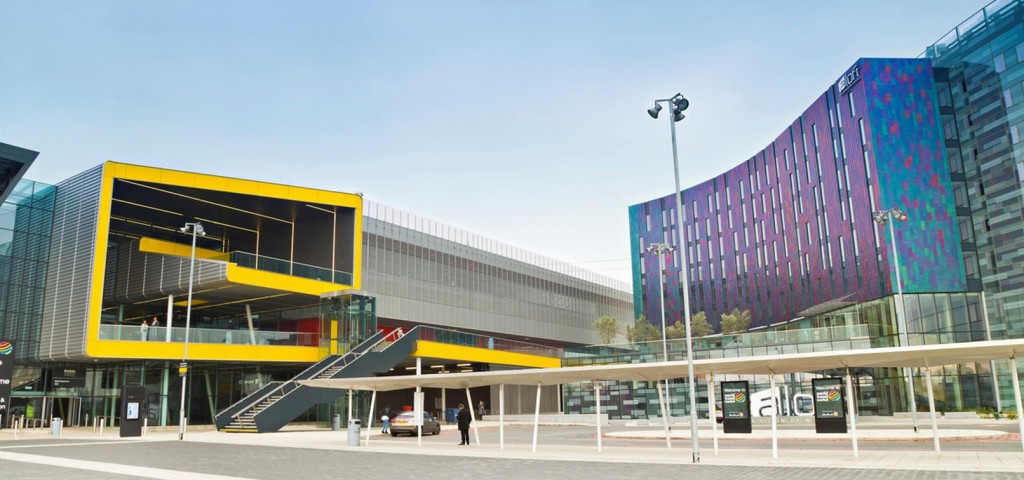 According to the countdown widget on my HTC One, 111 days remain before the start of WorldCon 2014/LonCon3.
The picture above is the London ExCeL Centre, the venue for this upcoming gathering of authors, fans and media personalities from around the world.
In 111 days, I will be there.
I've never traveled overseas before. That's not to say that I've never done any traveling at all–I've been on a longer plane ride, even, than the one which will carry me to London. (12 hours on a plane is nothing to sneeze at, but Oahu was totally worth it.) Even then, though, the culture was nowhere near as different as it will be when I leave this summer.
Culturally speaking, the farthest I've ever been from home was a trip I took sponsored by my high school to Québec City, way back more than ten years ago. The memories I have from Sainte-Anne-de-Beaupré, Notre Dame de Québec, a boat on the waterfront, a small café where I had a giant croissant and a bowl of hot chocolate for breakfast are some of my most treasured ones. Ten years on, those images are more like still-life paintings than the photos or videos that they used to be, but I will never forget them.
All my life I've had a travel bug, but rarely the means to swat it. My mother grew up a military brat, and she was born in Honolulu, lived in Germany at Rammstein Air Force Base, in the Philippines, and she talked about these places from the earliest days of my memory, filling my head with wondrous images of Neuschwanstein Castle, the pink hospital in Honolulu where she was born (which I actually saw when I went there… it's still there, sitting on the hillside, you can see it from the highway), the veritable fortress surrounded by walls topped with razor wire and broken glass that they lived in when in the Philippines–because at the time Americans weren't exactly welcome–where one day it rained on one side of the house, snowed on another, while the sun shone merrily out a third window.
These are the pictures I grew up with.
As I got older, and began to truly understand who I am, I knew the kinds of journeys I wanted to take. Many people going to London would be excited by the nightlife, the glitz and glamour, the high-powered shipping… but not me. For me, history is where the wonder is. It's one of the most frustrating things about living in America for a mind like mine–Americans think that a hundred-year-old building is full of history. I think the great Eddie Izzard put it most succinctly when he sarcastically quipped, in a tone full of false wonder:
We've restored this building to how it looked over fifty years ago…
Bah. No sense of time, my fellow Americans.
I'd be most at home in the countryside, as far away from the lights and sound of the city as I could get. My wonder, my joy lies in dreaming of seeing how people live day to day surrounded by so much depth of history. That's not going to happen this time, but I found a few ways to get a little bit closer.
While researching this trip, I found that most of the best fares to get from Boston to London flew Aer Lingus, with stopovers in Dublin on the way there and the way back. Thanks to a happy confluence of events, I suddenly had the means to pay some extra for a direct flight, but then I had a brainstorm.
Why?
The question occurred to me like a bolt of lightning from a clear blue sky, if you'll pardon the cliché. Why spend extra on a direct flight and skip a second destination?
Why not use that same money, instead, to make the trip longer?
I could stay a couple of extra days in London, but remember what I said above? When you get down to it, a city's a city, no matter what. If I'm going through Dublin anyway, why not fulfill a second dream while I'm at it, and spend a couple of days in Ireland?
Okay, but Dublin's still a city. (I have a friend who's from Ireland, and she says this all the time.) The only thing different from Boston to Dublin is that the Irish accent's a little stronger. (I kid.) So how do I get out of the city and see the real Ireland?
So, now my itinerary looks like this:
Fly overnight from Boston into Dublin, Ireland.
Catch a train from Dublin to Kilkenny (this is where my Irish friend is from)
Stay two nights in Kilkenny, soak in as much as possible
back to Dublin
Fly to London Heathrow
Stay 5 nights in London, attending #LonCon3 and seeking the history in the ancient city whenever I have a spare moment
Somewhere in here I plan to take a Stonehenge/Bath tour. I mean, come on. How could I not?
Take a train south to Crawley, UK
Stay two nights in Crawley
(Hopefully) Catch a show in Crawley at the Hawth Theatre
Fly out of London Gatwick
Stopover in Dublin
Home at last
Wow. Looking at that is a little daunting, actually. Am I crazy? Maybe.
I'm no travel blogger, but I follow a couple, and I'm using some of their tips and tricks to make this trip a reality. I've got a travel credit card whose reward points are instrumental in bringing this journey to life. (It's a Barclaycard Arrival, for anyone who's wondering. Great terms, a friendly website, and 40000 bonus points [that's $400] just for using it reasonably in the first couple of months. I heard about it from NerdWallet.) I'm not staying AT the ExCeL Centre, because that would be crazy and I'm not made of money. Instead, I found a very reasonable hotel just on the south side of the Thames from the ExCeL, which happens to be right near a ferry that hops across, and it's less than half the price per night. Sure that makes for a little commute to the convention, but IT'S LONDON. It's not like I'm stuck traveling through someplace boring, right?
With these little tricks, and being willing to compromise only slightly on my proximity to key locations, I'm making real what has literally been a lifelong dream for me.
I'm going to London. And Ireland. I'm going to forge new memories to keep and treasure for the rest of my life.
111 days until #LonCon3 begins. 107 days until I set out on what I hope will quite seriously be the experience of a lifetime.
Are you going to #LonCon3? If you (or someone you know) will be there, drop me a line at eisengoth (at) gmail (dot) com and maybe we can put together a posse!