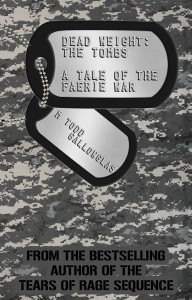 "This is an amazing time to be a fan. At no other point in history has there been such a popular acceptance of geek and nerd culture coupled with the ability for independent artists to get their work out in front of the public…Without having to rely on corporate giants to decide what is worth presenting to the consumer, each artist, in this case M Todd Gallowglas, can present their material directly to the consumer. That gives us the power. We don't have to read, play, watch, or listen to things created for the lowest common denominator or an overly broad and unfocused demographic, we can find exactly what we want, and give our money directly to the artist. I love this symbiotic relationship. If you want to immerse yourself in a story of a junkie bard veteran from a war where San Francisco was the front lines in an Unseelie incursion, you can. And believe me, I do."
From the forward to DEAD WEIGHT: The Tombs by Damon Stone, Game Designer, Fantasy Flight Games
Welcome to the first stop on the DEAD WEIGHT blog tour. For the last couple of weeks, I've been trading emails and IMs with various writer pals and websites looking for places to host me. I've had so much interest that I've had to extend the tour by a couple of days twice. With each new stop adding a day, I've always kept The Genre Underground as my first stop. In some ways both DEAD WEIGHT and The Genre Underground are my experimental labors of love.
I love to experiment and twist things around in everything I do. Back when I was teaching swing ballroom dance, I would mix up steps and moves. In gaming, I always want to push the bounds of the rules – usually to the chagrin of my game masters. Same with writing, airsoft, my storytelling show. To quote a great, yet horrible, man, "The status is not quo."
DEAD WEIGHT started in the back of my brain after reading, "The Things They Carried," by Tim O'Brien. After reading the story, a question popped into my mind: "What would a platoon of Marines have to carry with them on a mission into faerie. That was over five years ago. Since then, it's simmered in the dark corners of my imagination. It's made me ask more questions about the story and the world it takes place in. Over the last year, the story and the characters began speaking to me again, only the story became a disjointed mish mash of a timeline…as happens with anything when you add a dash of the fey.
When I first conceived DEAD WEIGHT I only meant it to be a short story, maybe a novelette at most. The trouble is, my brain generally thinks in terms a bit more epic than short stories, and DEAD WEIGHT is no exception. More than that, its storyline twisted, turned, and became more disjointed around its own timeline. As I worked on putting the final draft together, I realized I had the perfect chance to try an experiment with how to get it out into the world. Tanks to the indie book revolution, the serialized novel is making a comeback. Amazon is even rolling out a new serial program.
In my mind, DEAD WEIGHT was made to be a serial. Even before I dreamed of self-publishing, I kept asking myself, "How am I going to get this published?" In its completed form, it's too "big" for the standard Urban Fantasy, at least as far as conventional publishing circles consider for Urban Fantasy. Never mind the cheesy, easter egg, geek/nerd culture references seeded throughout, which several industry professionals told me would be a hard sell. That was before I mentioned the part where it's also a post-apocalyptic war thriller with aspirations of epic fantasy woven into the narrative. However, thanks to the changes in publishing, both for both creators and consumers, I can put DEAD WEIGHT into the world in the way I best think serves the story. It's an exciting time to be an artist in any medium. I'm pleased to be able to put DEAD WEIGHT at the forefront of the revolution. Over the next two weeks I'll be hopping around the blog-o-sphere talking about DEAD WEIGHT, my work, and some of my philosophies as an artist. Hope you enjoy my insights, and if you decide to pick it up, I truly hope you enjoy "The Tombs" at least as much as I enjoyed writing it.
To see all the stops on the DEAD WEIGHT tour, head over to my website: http://www.mtoddgallowglas.com/2014/02/10/dead-weight-blog-tour/
Tomorrow, my pal Patrick S Tomlinson asked me to stop by and talk about how I got into this writing game: http://www.patrickstomlinson.com/