(Interview by M. Todd Gallowglas)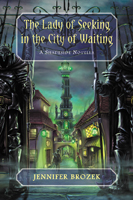 I've known Jennifer Brozek for about a year, having met her at last year's World Science Fiction convention. We've maintained a correspondence over that time and chatted similar interests and business at the occasional convention. She is one dedicated and hard-working lady, attending multiple conventions per year while and always has at least two or three projects in the wings waiting for her to wrap up work on the two, or three, or dozen she's currently working on. I've found her especially welcoming to both fans and up-and-coming professionals. And with all this, she can turn that all off in a moment's notice and scare you sheet white without even half trying, which is why she's on her way to becoming the new first lady of horror.
The Genre Underground is pleased to have her on board for the Road to World Con event.
GU: When did you attend your first convention? Did you start as a fan or a pro?
JLB: The first convention I remember regularly going to was DunDraCon in San Ramon, CA. It is the largest west coast gaming convention. I think I started going back in 1994. I went as a fan. All my friends are gamers and we all went together as a group. I didn't start going to conventions as a pro until August 2006. My first pro convention was GenCon.
GU: With the amount of conventions you attend per year, I think it's safe to assume that you feel it's important for pros and semi-pros in our community to attend conventions. Why do you feel it is so important for writers to attend conventions?
JLB: Editors and publishers are looking for new talent and new ideas. Authors are looking for someone to publish them. I've discovered that one good face-to-face meeting with the right person will open up doors like you would not believe.
I met author/editor John Helfers at GenCon in 2006. I pitched an anthology to him. He thought it was a great idea but it wasn't quite there yet. Over time, I got to know John and he watched me work my ass off on other projects until in 2010 – after only meeting him and his editor wife, Kerrie, at conventions – he had me meet him for a business meeting. It was there he asked me to pitch him anthologies for DAW. Out of that meeting came the DAW anthology HUMAN FOR A DAY.
Not soon enough for you? Here's me on the other end of the story. As an editor for my own magazine, I looked for new authors. In 2007, I met an author whom I invited to write for the magazine. As it turned out, he already had and been rejected—twice. We talked and I remembered both stories. I told him what was wrong with each and what was the next year's theme and asked him to try again. He did and he got it.
That author is Dylan Birtolo. From there, Dylan and I ended up writing an RPG supplement for Colonial Gothic together, THE ROSS-ALLEN LETTERS. I have also published him in the semi-pro anthologies: THE BEAST WITHIN 2 and SPACE TRAMPS as well as the pro anthology HUMAN FOR A DAY. He is also in a forthcoming anthology, COINS OF CHAOS, and will always be one of my "go to" authors because of how easy he is to work with.
If I had not met Dylan in 2007, I don't know if any of these other publications would have happened.
GU: What is your favorite part of going to conventions?
I think sitting down and talking with industry friends I only know online as well as meeting new industry friends. I love the social aspect of conventions and meeting people. Conventions are part of my job. They aren't all fun and games. So, I take joy where I can and I learn what I can about the people I have worked with or will work with.
GU: What one piece of advice would you give to the neo-pro attending a convention for the first time with "PRO" on their membership badge?
Believe it or not, it is not all about you. It is very exciting to be a PRO and you want everyone to know about your books but if you only talk about you, your books, your stuff, no one is going to be interested. You want to demonstrate a depth and breadth of knowledge—other authors, other works, other editors you admire and try to emulate. When you are on a panel, illustrate your talking points with examples from other authors as well as your own work.
When you are at a party or in the green room or just in the hallway, just be you. Be a real person and not someone trying to sell your book. Eventually, the conversation will come around to you and what you do. That's when you talk about you and your stuff. That's when your conversation partner is interested.
GU: What one piece of advice would you give to the hopeful writer attending the convention hoping to make contacts and network?
Writing is a job. So is publishing and editing. If you are looking to network, in essence, you are looking to have an informal job interview. You need to look the part: clean and presentable. Personally, for men and women, I say no t-shirts because it makes you stand out. Men: polo shirts, bowling shirts, button downs. Women: casual nice, boat neck, blouse, tunic.
You also need to have good timing – bathrooms and, unless you are having lunch/dinner with your networking target, mealtimes are not good times. If they are at a dealer's table, you need to know when to step to the side to allow them to do the job of selling their wares. No one appreciates having their tables blocked by someone who wants to sell them something.
I go into a whole lot of detail on this in my book, INDUSTRY TALK, because I've been pitched to in some of the most inconvenient places.
So, the short thought is: Writing is a job. Treat is and all contacts like a business with proper etiquette.
GU: With the rise of Indie and self-published writers leaping so easily in the market creating some controversy within the Science Fiction/Fantasy/Horror community, what place do you feel those writers have within the community of Fandom?
Considering I'm doing it all: self-publishing, semi-pro publishing, and pro publishing, I think there is a place. I think that self-published authors have a lot more work to do on the business side of things than they first imagine. They will have a smaller market share of the audience in general but if they do good work, get a good editor, treat their book with the respect and care it deserves, they will have a home in their chosen fandom.
I do think self-published authors have a hard road to travel. Especially if they don't have a good reputation already to rely on. Those self-published authors who do not do their due diligence will reap the reward of a resounding silence.
There will always be pro authors who say self-published authors aren't professional and there will always be self-published authors who say that pro authors are slaves to the big publishing houses. For me, I say find your niche and find your comfort zone and then write the crap out of it—figuratively and literally.
GU: Within your personal work, which project did you enjoy working on the most? Which do you think best defines you as a writer? What do you have in the works that readers can look forward to?
This is hard to answer. I really enjoyed writing INDUSTRY TALK: AN INSIDER'S LOOK AT WRITING RPGS AND EDITING ANTHOLOGIES because it encapsulated so much of what I have learned and wanted to pass on to other people. I get a lot of the same questions asked over and over and over again. So, I answered them in a book. I'm pleased with the book and think it's pretty smashing.
But, at the heart of me, I am a writer. I love writing. I've got a number of things coming out in late 2012 that will be my new favorite thing. But, in the meantime, if you want to see the world how I see it, my favorite book is IN A GILDED LIGHT: 105 TALES OF THE MACABRE. Every story is under a thousand words and lasts all day.  I warn you, though. A bunch of reviewers had nightmares while reading this book.
Thank you for taking the time to answer our questions. We'll see you at World Con.
Thank you for your interview. I'll see you all at WorldCon.