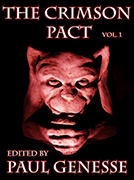 (Interview by M. Todd Gallowglas)
I had the pleasure of meeting Mr. Genesse years ago at the World Fantasy Convention in Austin Texas, and I've bumped into him at many conventions since. The thing that impressed me most when I first met him, and continues to impress me when we chat at conventions or we interact online, is that Mr. Genesse is a consummate professional, at all times, cordial, pleasant, and fully attentive in every conversation I've seen him a part of. He is both a writer and a fan, and one of the strongest examples of why the symbiotic relationship between science fiction and fantasy professionals and fans is not only really cool but a necessity for our mutual growth.
The Genre Underground is pleased to have him take time out of his insanely busy schedule to speak with us on the Road to World Con event.
GU: Your convention schedule seems daunting to the point of insanity. On average, how many conventions to you attend per year?
Paul Genesse: Six at the most. Usually about five.
GU: Most writers, especially those hungry and hopefuls who dream of making it big, can likely see the benefits of attending big conventions like World Con. Why do you think it's important for pros, or those hoping to be pros, to attend regional and local conventions as well?
Paul Genesse: It's all about who you know, when you're trying to sell fiction. You have to meet editors, publishers and agents. There are a few people who don't follow this model, but very few. Once you've attained a certain level of skill in writing, personal contacts come into play big time. I believe that meeting the editors and other writers at various conventions, like World Con and World Fantasy are invaluable. Once you're serious about selling something in the science fiction or fantasy genre, go to World Fantasy or World Con.
GU: What is your favorite part of going to conventions?
Paul Genesse: Seeing my fans, friends, fellow writers and editors who share so much in common with me. We all get to reconnect and support each other. I've been going to conventions regularly since 1997, and the people who have helped me along the way are like family, but family of my choosing, and without them I literally could not go on.
GU: As I said when introducing you, you are always the consummate professional. How important is it for neo-pros and hopeful pros to have this quality of interaction while at conventions?
Paul Genesse: It's very important. Just be polite and treat the people you meet with respect. Don't say anything negative, and behave in a very civil manner. Writers are normal people and we're at the convention to meet people, so be cool and don't stress too badly about saying hello. You can ask for advice, but don't pitch your novel for five minutes. Don't pitch your novel period, unless it makes perfect sense to do so. If they're an editor, you can ask if they're taking unsolicited submissions, and go from there. If they're not, don't pitch your novel. Coming up with an elevator pitch is crucial. Thirty words or less.
GU: You've been fairly active in the small-press world of publishing with last year's release of The Crimson Pact Volume 1 (Volumes 2-4 are also out now) and, if I understand correctly, you are breaking into the Indie Scene a you've retrieved the rights to your Iron Dragon Series. With the rise of Indie and self-published writers leaping so easily in the market creating some controversy within the Science Fiction/Fantasy/Horror community, what place do you feel those writers have within the Fandom community?
Paul Genesse: We're all writers. We all have something to say, and we all have a place in the community. My advice is that you don't self-publish until you've reached a professional level. That's hard to define sometimes, but if you find the right people, they can tell you if you're ready yet or need more practice. Independent/self-published writers can be just as good as those who have sold to major publishers, but be careful, and don't rush things out into the market.
In the Fandom community, self-published authors can take whatever role they want. There are awards in fan categories at World Con. The fans keep this business going and if you want to write fan fiction or whatever, enjoy yourself. Perhaps you don't put your real name on it, but that's your call. If your goal is to do something else and sell to a bigger publisher, it might be better for you to work on your own material.
GU: When can we expect to see the Crimson Pact Vol. 5? Do you have any other exciting projects in the works that you'd care to share with the Genre Underground's followers?
Paul Genesse: I just met with the publisher of The Crimson Pact series, Steven Saus of Alliteration Ink at Gen Con 2012 in Indianapolis and we've decided that The Crimson Pact Volume 5 is going to happen. The deadline will be around February 2013. Stay tuned for news about it on www.thecrimsonpact.com and the possibility of submitting. The Crimson Pact Volume 3 just came out as a trade paperback, and Volume 4 followed as an eBook—and will soon be a trade paperback. Currently I'm working on a rewrite of my novel, Medusa's Daughter, a love story set in ancient Greece about Medusa and the daughter I think she had. Also, I just had an essay come out in 8th Day Genesis, a World Building Guide for Writers and Creatives.
Thank you for taking the time to answer our questions. We'll see you at World Con.
Paul Genesse: I'll see you there and drop by my website, www.paulgenesse.com for more information.
~**~
Paul Genesse (juh-NESS—like finesse) spends endless hours in his basement writing fantasy novels, adding to his list of published short stories available from DAW Books and various other publishers, and editing the four volumes of the demon themedCrimson Pact anthology series. His first novel, The Golden Cord, book one of his Iron Dragon Series became the bestselling fantasy his publisher has ever had. Book two, The Dragon Hunters, and book three, The Secret Empire, all set in the treacherous plateau world of Ae'leron, are out now and available as trade paperbacks and eBooks. Learn secrets of the world, download the first ten chapters of The Golden Cord for free, and view maps by visiting www.paulgenesse.com.