WELCOME TO
THE GENRE UNDERGROUND
#READINTHEDARK 2013
Click here for all the books on sale!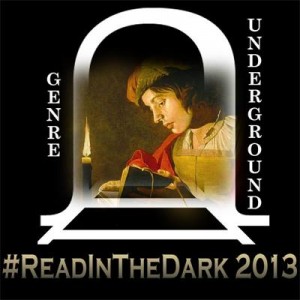 The days are getting shorter, and in many parts of the northern hemisphere, the cold is coming on fast. The sun may be going down at 5PM at the 40th parallel, but that just gives every book lover more time to #ReadInTheDark!
There's a lot of great things going on here at the Genre Underground for the changing of the seasons.
On the weekend of November 29, 2013, Genre Underground authors will be having a worldwide ebook sale! Prices as low as $0.99 will abound. Participating we have:
Apocalypse Ink Productions
Jennifer Brozek
Christopher Kellen
M. Todd Gallowglas
Gregory S. Close
Frances Pauli
Lance Erlick
and more!
Genre Underground authors will be holding a group AMA (that's "Ask Me Anything") on Reddit/r/Fantasy on November 29th, 2013. We'll be answering any question you can think of, so drop by and make us feel uncomfortable!
Simultaneously, authors from the GU will be answering yet another AMA on Facebook via the "Ask An Author" event throughout the day on the 29th. That's twice as many places to ask questions! (All times are Eastern Time.)
Even if you're out shopping on that Blackest of Fridays, you can still participate. While standing in those crazy lines, read along or participate with your smart phone, or get one of the many books our authors will have discounted to $.99. Either way, we've got plenty of stuff going on to keep you occupied whether you stay in or brave the crowds.
10-11am Elizabeth Leggett (Artist)
11-12pm Chris Kellen
12-1pm M Todd Gallowglas
1-2pm Garrett Calcaterra
2-3pm J.D. Hallowell
3-4pm Jennifer Brozek
4-5pm Lance Erlick
5-6pm Michelle Franco
6-7pm Frances Pauli
7-8pm Alyxx Duggins (Artist)
8-9pm M Todd Gallowglas
9-10pm Greg Close
November 29th will also be our first #FlashFictionFriday here at the GU, so keep your eyes out for more on that coming very soon!
Best of all, we're giving away a TON of ebook prizes! Scroll down to see how you can enter to win one of these great ebooks completely FREE!