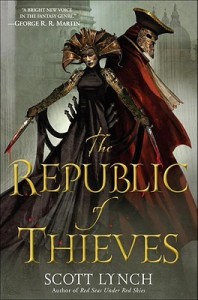 For the uninitiated: Scott Lynch's Gentleman Bastards series is like a higher-stakes game of Ocean's 11, but in a Venetian-style fantasy world. Like all good con stories, the reader is strung along, just trying to figure out how the thieves will manage their impossible plan. A nice bonus for the series is that it can lay claim to actually having all the wit and cleverness that Ocean's 11 only thinks it has.
The Republic of Thieves is the long-awaited third installment of the escapades of Locke Lamora and Jean Tannen: rogues, thieves, and clever wise-ass bastards. It picks up shortly after Red Seas Under Red Skies leaves off, though is enough of a self-encapsulated book that a new reader could pick it up cold and still have a rolicking good time.
So, what's inside:
Twisted clever schemes upon schemes tied up in other schemes
Fantastic quotes like "[The never-fail universal apology is:] I was badly misinformed, I deeply regret the error, go fuck yourself with this bag of money."
Biting satire on political systems and the theater, which in many ways are more like each other than not
A touchingly awkward and somewhat-broken romance
Spooky-weird mind-melding magi
What's not inside:
A heist or con as clever as any of the multilayered ones in the first two books. That's OK though, since for once the bigger emphasis was on the characters themselves, who actually spent time telling the truth. (To each other, not to their marks. We can't have that.)
As satisfying an aha-moment as in the end of the first two books. But that's also OK though, because Republic of Thieves opens more questions than it closes – ones that Lynch has been quietly seeding though the first two books.
A timeline for when book 4, The Thorn of Emberlain is coming, because even though I just spent a roughly ten-hour block reading this book, I want the next one already. (Sorry, picky reader gripe.)
************HERE THERE BE SPOILERS************
In The Republic of Thieves, we finally meet the mysterious Sabetha. And hot damn, was she a woman worth waiting for. Her relationship with Locke is explored in two layered stories: one of their past (from how they met, to the tormented beginnings of their relationship) and one of their present, where they are reunited as adversaries, pitted against each other in rigging an election. They play a game of wits as they try to out-maneuver each other, both for the election and to seize control of their relationship.
The two narratives of past and present intertwine beautifully. Lynch does a great job of showing the anguish and elation of confused teenage love, and then showing how so much of that mess remains in adults. In this, it feels like a much more emotionally-mature book than The Lies of Locke Lamora or Red Seas Under Red Skies. It's a good thing too, because if it weren't for these fantastic character explorations (the pair's flirting/fighting makes for the best scenes in the book, and Sabetha nearly always plays Locke like a fiddle), it would be a let-down from the con side.
In the current storyline, the bondsmagi, Locke's sworn enemies, are the only ones who can save him from his poisoning from book 2. They save his life in exchange for his services in rigging their local election. So here comes a slew of electioneering cons, but few of them are more serious or complex than ones we could easily see happening today. Create a mole in the other organization, or have one in yours? Seen it. Be so obnoxious while campaigning for the opposition that you annoy people into joining your side? Seen it. There's a laundry list of straightforward mini-efforts like this, and one of Lynch's strengths is writing the incredibly convoluted cons. There is one multi-step con that leads to the election outcome as a draw, which includes a clever money-laundering scheme. But it's not nearly as complex as we know Lynch can write.
In the flashback storyline, the young Gentleman Bastards crew of thieves is sent to apprentice at a theater troupe. Here too, the cons are fairly simple, although that's to be expected from young and inexperienced thieves. Straightforward "whoops we killed the evil nobleman and need to not get caught while putting on a play" schemes are comic, but are excusably so. And at the same time, we readers are treated to the entertaining equivalent of Shakespearean theater in Lynch's world, so there's plenty else going on.
But since the emphasis of the story is the exploration of Locke and Sabetha's relationship, with the cons more as a backdrop (for all that they take up the bulk of the book), that is all fine. The Republic of Thieves shows us a more human side of Locke, behind the wise-ass bravado and pluck. As we get to know how truly and honestly he loves Sabetha, to the point where he makes himself more vulnerable to her than we've ever seen him before (and this includes him lying near death poisoned, or near death in a barrel of pee, or any number of other near-death experiences), it looks like the richer and more multifaceted character is being set up for something much much bigger in book 4. Whisperings about his ties to the magi in his distant and forgotten past, whether true or not, make this reader eager to get to the next book already.
************END OF SPOILERS************
TL/DR: Another awesome book from an awesome author. Fast paced and snarky, but tones down a bit of the heist cleverness from books 1 and 2 (though there's still plenty of it) to make room for a more emotional and human story as Locke and Sabetha's relationship is finally explored.
609 pages
~ Reviewed by Effie Seiberg