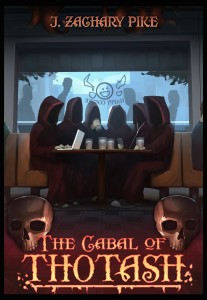 Amazon US
The Cabal of Thotash is an urban fantasy… Sort of.
Let's start at the beginning. A mysterious cult devoted to an evil Lovecraftian deity meets in an unventilated basement once a week, and everything is going well enough. Honoring the Contract, doing evil deeds, making sacrifices of innocents upon the altar of Thotash, until one day they bring a young woman into their midst as an intended sacrifice… And everything changes.
Only 9,000 words or so long, that is all this story needed to tell a whimsical and downright hilarious tale of a Lovecraftian cult (sorry, cabal) which just can't seem to get things right. If you're a fan of Terry Pratchett or Douglas Adams, and love to revel in the absurdity of situations normal and supernatural, you should not hesitate to pick this up. Genre-savvy readers will instantly recognize both the familiar and the unfamiliar, and you can't help but laugh as you watch this thoroughly respectable cabal become something infinitely greater than the sum of its parts.
For a first entry into the market by a new author, this short story/novella/novelette/whatever we're calling short fiction these days is well worth the time and small investment. The formatting is invisible, and while I might wish for fewer 'was's in the first paragraph, it did not detract from my thorough enjoyment of the story, nor did it reduce the number of laugh-out-loud moments in this brief yarn.
5 stars. Highly recommended.